To Spend in India, First Cut Taxes
High rates don't do any good if people don't pay.
by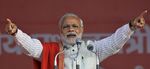 Huge, probably unrealistic hopes are riding on Indian Prime Minister Narendra Modi's first full-year budget, expected on Feb. 28. Nine months after sweeping to office on a wave of hype and promises of bold economic reforms, Modi has yet to follow through with the kind of radical changes that many of his loudest cheerleaders believe are necessary to revitalize the economy. Doubts are setting in. The budget is Modi's chance to reverse them.