Argentina's Kirchneristas Circle the Wagons
There are many ways to handle a crisis. Cristina has picked the wrong one.
by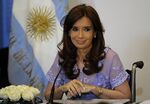 For Argentine President Cristina Fernandez de Kirchner, the hits keep on coming. Less than a month after special prosecutor Alberto Nisman accused her of trying to scuttle his investigation into a 1994 terrorist bombing in Buenos Aires  --  and wound up dead on his bathroom floor -- the same charges have come back to haunt her.