Is There an Auto Bubble?
The U.S. auto boom has some bubbly characteristics, but it's not yet in the same league as U.S. housing was.
by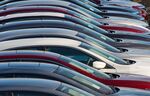 For all the progress the U.S. economy has been making, a nagging question comes up from time to time: Might the growth be a bit too dependent on credit-fueled auto sales?
Over the past several years, auto loans have been playing a role reminiscent of mortgages in the last U.S. economic expansion. The economists Atif Mian and Amir Sufi have noted, for example, that auto lending has been rising most sharply in the same U.S. zip codes that experienced the highest default rates during the mortgage bust -- and that the lending appears to be having as powerful an effect on auto sales as mortgage credit did on appliances, furniture and home improvement before the 2008 recession.
So how big of a deal might this be? The latest retail sales data from the Census Bureau offer a clue: As of January, automobiles and other motor vehicles accounted for 20.5 percent of total retail sales. That's up from 16.6 percent when the economy hit bottom in mid-2009, but still below the level that prevailed in the early 2000s. Here's how it looks:

The picture for auto credit as a share of household debt is similar, according to the New York Federal Reserve:

The question, then, is how much more U.S. consumers can borrow and buy, and whether the current rate of lending can be sustained. Bloomberg View contributor Edward Niedermeyer sees troubling signs, such as longer terms on car loans and an increasing share of borrowers with negative equity (meaning they owe more than their cars are worth). If borrowers start defaulting in greater numbers and losses cause lenders to pull back, sales could drop off quickly.
That said, the mortgage and auto-credit booms are of different magnitudes. From 2003 through 2008, U.S. household mortgage debt increased by about $4.5 trillion. Over the five years through the end of 2014, auto debt grew by just $236 billion. Beyond that, motor vehicles and parts comprise less than 4 percent of all U.S. consumer spending -- though that doesn't capture the full economic weight of the auto industry.
In short, the auto boom does have some bubbly characteristics. A bust could hurt, but the froth doesn't yet present as much of a threat as the U.S. housing bubble did.
This column does not necessarily reflect the opinion of Bloomberg View's editorial board or Bloomberg LP, its owners and investors.
To contact the author on this story:
Mark Whitehouse at mwhitehouse1@bloomberg.net
To contact the editor on this story:
Max Berley at mberley@bloomberg.net
Before it's here, it's on the Bloomberg Terminal.
LEARN MORE