view
Christie Is Fading Fast
Barring indictments, he doesn't appear to be disqualified, yet. But all the evidence suggests he's losing badly.
by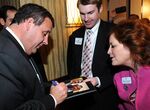 Is Chris Christie 2016 just about over?
NBC's Perry Bacon Jr. has a devastating account of Christie's standing in the invisible primary:
New Jersey Gov. Chris Christie is facing growing skepticism from influential Republicans about his likely presidential run, with many in the party privately expressing doubts that he has any chance of winning the GOP nomination and some of Christie's former backers unwilling to say they will support his campaign.
Add to that a Politico survey of insiders in Iowa and New Hampshire that contained nothing positive for Christie. In fact, he isn't mentioned in James Hohmann's write-up. Then there are polling numbers in New Jersey showing Christie solidly underwater and falling in his home state.
There's also Christie's weak polling nationally among Republicans, summarized by Harry Enten at FiveThirtyEight under the headline "Everybody Hates Chris Christie."
I'm cautious when it comes to burying presidential candidates who appeared to be viable but have fallen on hard times. The classic case is John McCain, given up for dead by many midway through the 2008 cycle, only to rebound and win the nomination. There are plenty of others who appeared to be out of it before suddenly catching fire. And Bacon does note some Christie support.
So until Christie tells us he's done, I'll continue to include him on my list of viable candidates. 1  
Still, his strength has always been overrated by much of the national press, which tends to overestimate the chances of New York area politicians and is overly impressed by money, especially from Wall Street. 2  Christie has always been too moderate for his party, though without holding the kind of fully disqualifying policy positions of, say, Rudy Giuliani. Making up for such liabilities with bluster risks misfires. And, yes, scandals matter, especially when the party has plenty of other solid available alternatives.
It's possible that Christie could, through luck or skill, be part of an episode that would remind Republicans of why they were interested in him back in 2011; that many of the other contenders could implode, and that the governor could wind up with a path to the nomination. Barring indictments, he doesn't appear to be disqualified, yet. But all the evidence suggests he's losing badly.
A couple of weeks ago on Twitter I put him in a third tier along with Bobby Jindal, Rick Santorum, and Rick Perry (with Bush/Rubio/Walker as the first tier and Huckabee/Kasich/Pence in the middle) and that seems right to me still. 
To contact the author on this story:
Jonathan Bernstein at jbernstein62@bloomberg.net
To contact the editor on this story:
Max Berley at mberley@bloomberg.net
Before it's here, it's on the Bloomberg Terminal.
LEARN MORE