A Time Bomb Wrapped in a Ukrainian Peace Deal
The cease-fire deal reached in Minsk is a shaky compromise.
by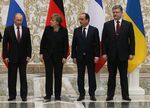 When world leaders pull an all-nighter, something has to come out of it. What came out of the 17-hour, Ironman-level endurance test in Minsk is a cease-fire deal for eastern Ukraine that mitigates the Kiev government's defeat in a war it could not have won, gives Russian-backed rebels two days to make final territorial gains and freezes the conflict until next year.