Rand Paul Is Real in New Hampshire
The only other major Republican without a negative rating is Wisconsin Governor Scott Walker.
by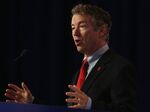 The conventional wisdom among Republican elites is that Senator Rand Paul of Kentucky is a fringe candidate with limited popular appeal. That may prove correct in the long run, but it's unsupported by recent polls -- especially last week's Bloomberg Politics/Saint Anselm New Hampshire survey.