No, India Isn't Growing Like China
The country's fundamentals remain weak.
by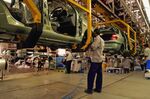 India bulls are ecstatic. According to revised gross domestic product numbers released earlier this week, the country will expand 7.4 percent in the year through March -- on par with rival China. Never mind that most other indicators -- from manufacturing to trade to corporate investment -- seem to show that the economy is at best bottoming out, or that central banker Raghuram Rajan has himself expressed puzzlement over the revised figures. For optimists, India has once again reached that holy grail of emerging economies: "China-like" growth.
India has been here before, of course. So have dozens of other countries, from Brazil to Turkey to tiny Sri Lanka. At one point or another, all have posted growth rates above 8 percent, leading to predictions of a liftoff like the one that's powered China for more than three decades. In most cases, those dreams have fizzled out within a couple years. Weak fundamentals, irrational investor exuberance and in some cases, credit or commodity busts quickly puncture fantasies of global dominance. By contrast, while its economy has begun to slow, China has grown an average of 8.5 percent for the last five years. Its Gini coefficient, a measure of a nation's rich-poor gap, has improved in each of them.
Ironically, achieving China-like growth is often the surest way to lose it. Leaders fall prey to hubris and complacency, hyping all the factors that supposedly guarantee a long run at the top: young populations, abundant resources, the unwavering affection of investors. That overconfidence fosters drift and bad policy. Remember, during its first term, India's previous Congress-led government also topped 8 percent growth. During its second, it focused on sharing the wealth through huge transfer programs rather than opening India to foreign investment, reducing red tape and deregulating fossilized industries. Growth, according the old formulas, slid below five percent.
Officials from New Delhi to Manila should be learning from China not just how to achieve high growth, but more importantly, how to sustain it. The mainland economy faces huge challenges of its own, of course. President Xi Jinping must shift growth engines away from exports and overinvestment toward services, as well as clean up Beijing's notoriously corrupt political machine. But China has gotten right many of the elements critical to raising the quality of growth. Among them: running a current-account surplus, beating inflation, boosting productivity and taming politics.
China proves, for example, that it's best for an emerging economy to be a net exporter of capital. India's chronic deficits almost dragged the economy into a full-blown debt crisis in 2013. A more balanced set of government books would shield the economy from market turbulence should Europe crash or Federal Reserve rate hikes unnerve investors. Also, by moving surplus cash into financial assets of developed nations, China helps lower interest rates from Washington to Frankfurt and empowers Western consumers to buy more Chinese goods and create more Chinese jobs.
India must do better at attacking inflation that remains six times higher than China's 0.8 percent rate. Chronic inflation means higher borrowing costs, reduced economic efficiency and greater hardship for the nation's poor. Most of India's price pressures derive from the supply side, which limits Rajan's ability to lower rates. It's up to Prime Minister Narendra Modi to attack the graft, bureaucratic inefficiencies, overlapping tax regimes and crumbling infrastructure that shackles India with high costs, even as most other nations in the region fret over the threat of deflation. Simply integrating India's labyrinthine food markets would improve the lives of hundreds of millions of struggling households.
Raising productivity would both help lower inflation and improve India's standing as a manufacturing hub. As of 2014, India's working-age population was more than 800 million -- analogous to China's in 1993. And estimates have it swelling by about 200 million over the next two decades. But China's manufacturing floors are about 1.6 times more productive than India's. Modi needs to boost investments in education and new technology and rework archaic labor laws if India is to narrow the gap. Otherwise, the country will undershoot in inward investment and fail to create decent jobs for all those new workers.
Finally, while I'm not joining the chorus of those who think India would benefit from a more authoritarian, "China-like" political system, greater clarity and predictability from the government would help Modi's sales pitch. The government's scattershot policy decisions over the last decade -- imposing retroactive taxes on foreign companies, scuttling a World Trade Organization deal, repeatedly failing to implement reform pledges -- continue to hover over the economy in 2015. Until they're convinced Modi's reforms will stick, investors will hesitate to jump into India.
Indeed, as even the top bureaucrat at India's Statistics Ministry has noted, the new figures don't change the underlying economic reality for India. The government's fiscal position remains strained; companies are too indebted to invest; banks are saddled with bad loans. No nation can revise its way into China's orbit. If India wants to replicate the mainland's success, it needs to act more "China-like," too. 
This column does not necessarily reflect the opinion of Bloomberg View's editorial board or Bloomberg LP, its owners and investors.