Fellow Republicans: Talk About Evolution
Republicans keep dodging questions about evolution. They're only hurting themselves.
by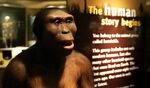 Why do so many Republican politicians dodge questions about evolution? Scott Walker, the governor of Wisconsin and a likely presidential candidate, turned down a chance to explain his views on the topic yesterday. Three other likely candidates have done the same.