Enough About Tesla's Market Cap
Discussing future (or present) stock-market valuation is usually a mistake for CEOs.
by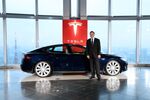 Sometime after they announced their big merger in 2000, AOL's Steve Case and Time Warner's Gerry Levin flew to London to, among other things, address the assembled local employees of their two companies. I was one of those employees, and remember trooping into a West End theater to hear the two men gush about the bounteous future that awaited us.