Who Needs a Diploma to Be President?
College completion may be a signal of your character. But we have other, better signals about Scott Walker's abilities -- namely, his time as governor.
by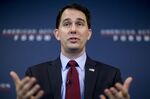 The Washington Post has a lengthy article on Wisconsin Governor Scott Walker's college career and his decision to drop out of Marquette University during his senior year. I read it carefully, and I think that this piece raises a pretty important question about Walker's presidential campaign.