Currency Wars Have a Nuclear Option
As currency wars intensify, central bankers may start considering capital controls.
by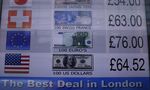 Sweden has fired another salvo in the escalating currency wars by joining Denmark, Switzerland and the European Central Bank in introducing negative interest rates. As this battle intensifies, some market soothsayers are starting to whisper about capital controls as a possible nuclear option for central banks determined to win the race to the bottom of foreign-exchange rates.