Chicago Little League Scandal Isn't Black and White
Urban decay has led to an exodus of black players to the suburbs, making geographic team distinctions fuzzy.
by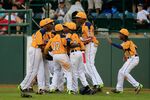 Little League International has completed its investigation into Jackie Robinson West, deciding to strip the team from the South Side of Chicago of its U.S. World Series title. Yes, the biggest scandal to rock the sports world since Monday is finally over. Everyone can rest easy that integrity has been restored to the baseball diamond.