Dinosaur Union on Rampage in Western Ports
Technical difficulties, a possible end to California's long ports boom and a labor union with a grand past combine to create a transport mess.
by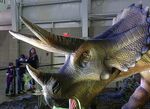 The labor struggle brewing at the West Coast's ports feels like an episode from another time. The International Longshore and Warehouse Union, which represents 13,600 workers at 29 ports in California, Oregon and Washington, is the product of a famous 1934 strike that shut down San Francisco and resulted in one of the landmark labor triumphs of the New Deal era. Its members have some of the country's last great blue-collar jobs -- well-paid, secure, with solid pensions. Plus, they're longshoremen (and women). How retro is that?
If the ILWU is a dinosaur, though, it's a little like that smart, genetically modified one coming soon to movie screens in "Jurassic World" (Hey, Chris Pratt -- look out!). In the early 1960s, longtime ILWU leader Harry Bridges decided to embrace the productivity revolution that container shipping offered, Marc Levinson writes in "The Box: How the Shipping Container Made the World Smaller and the World Economy Bigger" (if that sounds fascinating to you, buy the book, it's great; if it doesn't, then I really don't know what to do with you). Perhaps alone among U.S. labor leaders, Bridges pushed for more mechanization and automation, not less. "The days of sweating on these jobs should be gone," he told management negotiators in 1963.
The tradeoff was generous early retirement benefits and wage supplements for displaced workers. Longshoremen might lose their jobs because of the switch from bulk loads to containers, but they wouldn't lose their incomes.
This bargain held up because the very force that eventually decimated unionized manufacturing in the U.S. -- imports from Asia -- was spectacular news for the ports of the West Coast. Shipping traffic exploded, especially at the ports of Los Angeles and Long Beach, which sit right next to each other on the shores of San Pedro Bay.

Together, the LA and Long Beach ports became the country's most important commercial gateway -– as well as a potent symbol of the unbalanced U.S. economy of the 1990s and 2000s, as ships arrived laden with electronics, toys, apparel and machinery from China and other Asian countries, and departed with mostly empty shipping containers.
Then came the global financial crisis, and sharp declines in trade. Container shipping to the West Coast ports has since mostly recovered from that fall, but the long rise in traffic seems to have given way to a plateau.

Part of the issue is that ports on the Atlantic and Gulf coasts have gained market share as shippers looked for ways around Southern California rail and highway bottlenecks and sought out ports that had things to export so their boats didn't have to go back empty (Savannah, Georgia, with its proximity to chicken farms, paper mills and the new Southeastern manufacturing heartland, has been the biggest winner). The West Coast ports' share of U.S. container traffic fell below 50 percent in the early 2000s; by 2013 it was down to 43.5 percent, according to the Pacific Maritime Association, which represents shippers and stevedoring companies and is the ILWU's adversary at the negotiating table. East Coast port workers are represented by a different union, the International Longshoreman's Association, that hasn't been quite as successful as the ILWU at negotiating great deals for its members through the years.
So while there are no signs that the grand bargain between the PMA and ILWU is at any risk of breaking down -- the new five-year contract on offer includes 3 percent annual raises (the current average income of ILWU full-timers is $147,000) and increases in pension benefits -- there are ominous undertones. If the years of spectacular growth are over, the battles over how to divide the pie may get rougher.
Again, that may not be happening yet this year. The previous contract expired July 1, and it's hard for an outsider to figure out exactly what's been happening since. The PMA says the union is engaged in work slowdowns that have brought port operations "to the brink of gridlock"; the union says much of the slowdown is the shippers' fault. The PMA says the main sticking point is an ILWU demand that it be able to unilaterally fire the arbitrators who rule on contract disputes; the ILWU has so far been quiet about that.
Couple the labor tensions with the arrival of giant new container ships that take longer to load and unload and a shortage of the chassis needed to pull containers off the dock, Port of Long Beach Chief Executive Officer Jon Slangerup said on Bloomberg TV today, and you get a backlog of big boats floating off the West Coast waiting to unload their cargoes. (There's a fuller explanation of the chassis issue at Fortune.com.) My favorite floating-boat story comes from Seattle's KIRO radio, which sent a reporter aboard a South Korean ship in Puget Sound. She found that the polyglot crew members had been biding their time playing table tennis, lifting weights and pining for an excursion to the mall in Tukwila.
So far the economic impact hasn't been huge. Shippers and their customers have known since at least July that a slowdown was likely, and many companies brought shipments in early or routed them through East Coast ports. Still, workarounds are getting harder, and for some customers -- such as the California almond growers who export most of their crop through the Port of Oakland -- there really aren't any alternatives. The last time the West Coast ports shut down because of a labor dispute, in 2002, a consulting firm hired by the PMA estimated the economic damage at $1.9 billion a day. Other economists have since concluded that this estimate was exaggerated, but the cost of a shutdown definitely wouldn't be zero.
There wasn't a strike in 2002; after months of slowdowns, the PMA locked out workers in an attempt to force President George W. Bush to invoke the Taft-Hartley Act and ask a judge to order the ports back open, which is what happened. Union leaders didn't like this, because it reduced their bargaining power, and President Barack Obama is not going to be eager to do the same. So…stay tuned for further developments in this throwback to the way labor relations used to work in the U.S.
This column does not necessarily reflect the opinion of Bloomberg View's editorial board or Bloomberg LP, its owners and investors.