Dinosaur Union on Rampage in Western Ports
Technical difficulties, a possible end to California's long ports boom and a labor union with a grand past combine to create a transport mess.
by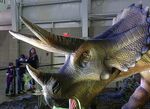 The labor struggle brewing at the West Coast's ports feels like an episode from another time. The International Longshore and Warehouse Union, which represents 13,600 workers at 29 ports in California, Oregon and Washington, is the product of a famous 1934 strike that shut down San Francisco and resulted in one of the landmark labor triumphs of the New Deal era. Its members have some of the country's last great blue-collar jobs -- well-paid, secure, with solid pensions. Plus, they're longshoremen (and women). How retro is that?