You Want Advice? Don't Ask Journalists
"Good for journalism" does not necessarily mean "good for journalists."
by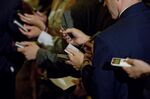 "I'm sure that many people have told you this already, but take it from me as well: journalism is a dumb career move," Felix Salmon says to aspiring journalists. "If there's something else you also love, something else you're good at, something else which makes the world a better place  --  then maybe you should think about doing that instead. Even successful journalists rarely do much of the kind of high-minded stuff you probably aspire to. And enormous numbers of incredibly talented journalists find it almost impossible to make a decent living at this game."