The ECB Should Stay Out of Politics
The European Central Bank doesn't get to decide which countries deserve to be members of the euro area.
by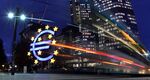 Has the European Central Bank made itself the judge of which countries remain members of the euro area? That would be an amazing assertion of power -- on the face of it, completely at odds with its usual insistence that it stands outside politics. Yet that is more or less what the ECB seemed to do with its pronouncements on Greek debt last week.