Putin Visits His Egyptian Mini-Me
Russian President Vladimir Putin has a lot in common with his Egyptian counterpart, Abdel Fattah el-Sisi.
by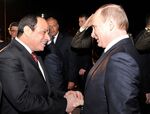 Russian President Vladimir Putin arrived in Egypt yesterday for a two-day visit and the royal welcome he received gives yet more reason to doubt U.S. policy  in the region. The U.S.-backed Arab Spring revolution in Egypt has resulted in a Putin-style dictatorship -- one that clearly wants to be a close Putin ally.
Here's what the front page of Al-Ahram, the most widely-circulated newspaper in Egypt -- and a state-owned one -- looked like ahead of Putin's visit:
"Putin, the Hero of Our Time," the headline read. Egyptian president Adbel Fattah el-Sisi met Putin at the airport -- where a military band played a painful, if well-intentioned rendition of the Russian national anthem -- and whisked him off to the opera to hear performances of Tchaikovski and Verdi. The streets were adorned with huge posters of a smiling Putin. Putin reciprocated the warm welcome. Today, he presented Sisi with a Kalashnikov rifle.
In one sense, Putin's gift to Sisi was an acknowledgement of their common background as career officers. But it was also the latest gesture in a long history of Russian courtship of Egypt.
In the 1950s and '60s, the Soviet Union counted Egypt as a major ally. Under Egyptian President Gamal Abdel Nasser, his socialist sympathies helped cement ties with Moscow. Relations briefly fell out in the 1970's under President Anwar Sadat, after he agreed to receive U.S. military aid under the terms of the Camp David Accords. But the relationship improved again under Hosni Mubarak, who became Egypt's president after Sadat's assassination in 1981. Mubarak was Egypt's leader for the first 11 years of Putin's presidency; in 2008, they agreed that Russia would bid to build Egypt's first nuclear power plant.
All seemed lost when Mubarak was deposed and put on trial for corruption. Putin considered the Muslim Brotherhood -- whose candidate, Mohammad Morsi, won the election to succeed Mubarak -- as little more than a group of terrorists; when Morsi asked Putin for a $2 billion loan, he was turned down. But Putin has had a seat at Egypt's table ever since Sisi's ascension.
Like Putin, Sisi is a man of modest beginnings. He rose through the ranks quietly until the Arab Spring revolution lifted him to prominence, first as head of military intelligence, then as defense minister, appointed by Morsi. Putin, of course, was lifted out of obscurity by his predecessor Boris Yeltsin, who put him at the head of FSB domestic counterintelligence and then appointed him prime minister.
There are other echoes in how the two men rose to power. Less than a year after becoming defense minister, Sisi spearheaded a military coup -- he calls it a "second revolution" -- to overthrow Morsi, and last year, he won a presidential election with 96 percent of the vote.  Putin didn't have to overthrow Yeltsin, who resigned on New Year's Eve, 2000, and opened the path to Putin's first electoral triumph. But his 14-year rule has negated Yeltsin's legacy as harshly as Sisi's rejection of Morsi.
Sisi and Putin have also had similar approaches to governance. They both have dismal human rights records. (Sisi's was recently decried by Amnesty International last year.) Since spearheading a military coup last year -- he calls it a "second revolution" -- Sisi has yet to hold a parliamentary ballot. (Elections are currently scheduled for March and April.) He runs the country with an iron hand, cracking down hard on the Muslim Brotherhoood.
Both leaders harbor a mistrust of the West. "You judge our experiences from your own cultural, civilizational and developmental vantage point and you cannot remove yourselves from this context," Sisi said in a recent interview with Germany's Der Spiegel weekly. "You need to understand what happened in Egypt in light of the circumstances, challenges and threats faced by Egypt."
Their approaches to combating Islamic terrorism also have similarities. Egypt is a member of the U.S.-led coalition against ISIS, but the Egyptian army, which nourished Sisi and which controls much of Egypt's economy and now its public life, is not taking part in any of the coalition's endeavors. Sisi has confined his anti-terrorist activity to fighting pro-ISIS rebels in Sinai, on Egyptian territory -- much as Putin had once done, painting his war on separatists in Chechnya as part of the global war on terror.
The U.S. never expected a Putin doppelganger to seize power in Egypt when it backed the 2011 revolution. In May of that year, U.S. President Barack Obama said he "saw many reasons to be hopeful…in the efforts of young people who led protests." Many of these young people are now members of a banned organization -- Sisi has outlawed the Muslim Brotherhood -- and others are dead. Egyptian courts have been busily sentencing the Brothers to the death penalty. 
In 2011, the U.S. spent $31.8 million to support "democracy, human rights and governance" in Egypt. In 2014, that amount was down to $13.3 million, reflecting a cooling of relations and a general reduction in U.S. financial support to the world's biggest Arab nation. (Washington also temporarily withheld military aid to Egypt last year.) While American backing for the country, which historically has been one of the biggest beneficiaries of U.S. foreign aid, eroded, Russia moved in, offering a $3.5 billion arms deal. In June, 2014, the U.S. unfroze its military aid to Sisi's regime, but the Egyptian president went ahead and signed the Russian deal last fall, anyway.
During Putin's visit this week, he and Sisi are discussing a trade deal that's supposed to include settlement for purchases in rubles rather than U.S. dollars.
While the Egyptian dictator -- who has a U.S. degree in strategic studies -- is in the enviable position of being courted by both the U.S. and Russia, it's clear where his personal sympathies lie. So Putin would be excused for imagining a similarly warm relationship with a future Ukrainian president in a few years' time. In his mind, the crowds in Cairo's Tahrir Square, which rioted against Mubarak in 2011, must look little different from the ones in Kiev's Independence Square last year, demanding the ouster of former President Viktor Yanukovych. To Putin, these were both Western-instigated revolutions that could prove reversible with the right amount of luck, guile and pressure.
Egypt's example so far has proven that view correct -- which doesn't mean things won't turn out quite differently in Ukraine, a much more important country for Putin than Egypt could ever be.
To contact the author on this story:
Leonid Bershidsky at lbershidsky@bloomberg.net
To contact the editor on this story:
Cameron Abadi at cabadi2@bloomberg.net
Before it's here, it's on the Bloomberg Terminal.
LEARN MORE