Editorial Board
Malaysia's Politics of Intolerance
Whatever their politics, Malaysians would benefit from a genuine contest of ideas.
by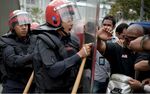 The five-year jail sentence imposed today on Malaysian opposition leader Anwar Ibrahim effectively ends his political career. The greater loss, however, will be to Malaysia's politics and economy if Prime Minister Najib Razak's intolerance continues.
Najib's government has greatly increased its use of the Malaysian courts for essentially political ends; according to Amnesty International, since 2013 at least 44 people have been investigated, charged or convicted under the colonial-era Sedition Act, which Najib once promised to repeal. (Anwar's conviction was for sodomy, though the case was highly politicized.) The prime minister has given Malaysians all too much reason to doubt the credibility of their judiciary.
Najib's broader efforts to shore up his political position are dragging the country backward. Buffeted by criticism from former Prime Minister Mahathir Bin Mohamad for his stewardship of 1MDB -- a government investment fund with murky finances -- he has sought to placate hard-liners within the ruling party with retrograde policies. He's redoubled support for racial preferences for Malay citizens and businesses and urged government-linked companies to give more contracts to ethnic Malays "on merit." He hasn't decisively confronted a rising tide of Islamism, nor rebuked one of his ministers who called for a boycott of Chinese-owned businesses.
This political opportunism comes at a cost. Najib's persistent pro-Malay policies, as well as a sense of rising intolerance, are fueling a damaging brain drain at a time of economic turmoil. The World Bank recently reduced its 2015 growth forecast to 4.7 percent as falling oil prices take a toll on the country's energy exports. As commodity prices plunge around the world, the country desperately needs to move further into downstream production in everything from energy to palm oil. It needs to spur entrepreneurship to invigorate its services sector.
Elections in 2013, in which Najib's ruling coalition lost the popular vote, should have served as a wakeup call. Not only ethnic Chinese and Indians but also young, urban Malays voted in droves for the opposition. Now, with Anwar deposed and new elections not due until 2018, Najib may feel he has more to fear from his own hard-liners than from the opposition.
The Barack Obama administration, which Najib has assiduously sought to cultivate, was right to criticize Anwar's conviction and Najib's enthusiasm for prosecuting his critics. One can only hope that U.S. officials are being even more forceful in private.
Ultimately, though, only a powerful domestic opposition can force the kind of structural changes that would bring about a truly open economy and society in Malaysia. Losing the charismatic Anwar will be at least a temporary blow to his fractious coalition. But if party leaders can reorient themselves around principles instead of personalities -- and tame the Islamic extremists in their own camp -- they will greatly strengthen their appeal as a viable alternative to the ruling coalition. Whatever their politics, Malaysians would benefit from a genuine contest of ideas.
--Editors: Nisid Hajari, Michael Newman.
To contact the senior editor responsible for Bloomberg View's editorials: David Shipley at davidshipley@bloomberg.net .
Before it's here, it's on the Bloomberg Terminal.
LEARN MORE