Hard Liquor, Pet Care and Other Job Creators
After five years of economy-wide job gains, there are some interesting winners and losers.
by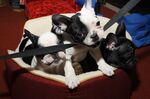 The monthly employment reports issued by the Bureau of Labor Statistics contain vast troves of industry-level data that is usually almost entirely ignored in the subsequent media coverage. Some people later make use of these numbers to do things like identify and measure job creation in the industries most critical to our nation's economic future. But seriously, who wants to know about THAT?