Greg Hardy Goes Free at a Price
A man who was found guilty of strangling a woman and throwing her on a bed full of assault rifles could be on an NFL roster next season.
by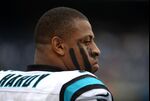 Less than seven months after being convicted of domestic abuse, Carolina Panthers defensive end Greg Hardy will walk after state prosecutors dropped charges when his accuser failed to appear in court yesterday for his appeal. The Charlotte Observer reports that Hardy "is believed to have reached an undisclosed civil settlement" with the woman, who has been out of touch with the District Attorney's office since November.