Why Jordan Is Islamic State's Next Target
Jordan is vulnerable to challenges from fundamentalists. And Islamic State is gaining strength in its neighborhood.
by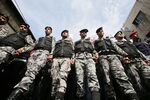 Jordan's King Abdullah II was in battle gear last week, quoting Clint Eastwood and bombing Islamic State targets in retaliation for the horrific burning-alive of a Jordanian pilot. Is this a sign that Jordan is entering the war against the insurgent group in earnest, or is it a temporary show for a stunned Jordanian public?