Six Questions for Scott Walker
Scott Walker emerges as a Republican front-runner. Here are a few questions he'll have to answer before 2016.
by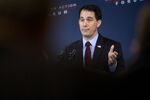 Scott Walker, the Republican governor of Wisconsin, is leading some presidential-primary polls in Iowa and New Hampshire. He was elected in 2010, and quickly drew national attention when he signed legislation to reduce the collective-bargaining privileges of public-sector unions. He prevailed in that struggle, beat back an attempt to recall him from office and became a hero to conservatives nationally in the process. Last year, he won re-election in a state that hasn't gone Republican in a presidential race for 30 years.