Why We Loved Dean Smith
When I met Dean Smith I wanted to talk sports. He wanted to talk politics.
by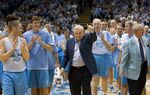 Two decades ago, at my wife's reunion at Duke University, one of her classmates asked if we were going to the party scheduled before dinner. No, Judy explained, the University of North Carolina basketball coach had invited our children over to watch a private practice.