U.S.-Germany Rift on Ukraine Aids Putin
A Western divide plays into the hands of Russian President Vladimir Putin and the pro-Russian separatists inside Ukraine.
by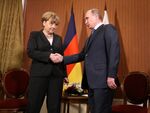 Some European leaders are pushing back hard on Washington's potential plan to send weaponry and other military goods directly to the Ukrainian military. This rift --- over an initiative President Barack Obama has not even committed to -- only benefits Russian President Vladimir Putin and the pro-Russian separatists inside Ukraine.
The debate is playing out urgently here at the Munich Security Conference, where almost all the officials attending (not counting the Russians) can at least agree that the situation is deteriorating rapidly and that the West must act. But that's where the agreement ends.
"Progress on Ukraine cannot be achieved by more weapons," said German Chancellor Angela Merkel, who had just returned from a frantic diplomatic mission to Kiev and Moscow, where she and French President Francois Hollande offered Putin a new compromise on Ukraine. "The new future of Europe is not found in confrontation with Russia, which runs the risk of continuing escalation … We want to shape security with Russia, not against it."
The chairman of the U.S. Senate Foreign Relations Committee, Bob Corker, directly challenged Merkel in open session, making the argument that arming the Ukrainian military was right decision both strategically and morally.
"All of us in the U.S. Congress believe in defensively arming Ukraine," he said. "Why would we not at least give them defensive arms to counter the offensive arms Russian is sending into Eastern Ukraine?"
Corker's framing of the issue, calling Western lethal aid to Ukraine "defensive" and Russian lethal aid to the separatists "offensive" is not an accident. Those are the talking points members of the U.S. delegation are using here to lobby their European counterparts to support lethal aid, or at the very least not to oppose it.
Ukrainian President Petro Poroshenko followed the same strategy of couching any aid in purely protective terms. "The stronger our defenses, the more convincing is our diplomacy," he said. "The lack of defensive capability triggers offensive operations and brings escalation."
After the session, Corker told me he thinks the European resistance to arming Ukraine was having a direct effect on the deliberations back in the White House.
"It's evident to me that Germany's position is what's holding our administration back," he said. "I have no idea how our diplomacy can be successful if we are unwilling to put teeth behind it. Germany and all of Europe encouraged Ukraine to move West, and now in their time of need, I could not be more disappointed in Merkel's response."
Some nongovernmental members of the American delegation in Munich also see Merkel's public announcement of her opposition to lethal aid as particularly unhelpful, considering that she is coming to Washington on Monday to discuss the Ukraine issue with Obama.
"She should have left the door open, because you lose the leverage,"said Richard Burt, former U.S. ambassador to Germany. "By suggesting American escalation, this could have prompted Putin to be more disposed to a diplomatic solution."
U.S. officials in Munich said that Merkel and Hollande's hastily arranged shuttle diplomacy this week was in direct response to reports that the White House was finally giving serious consideration to greater military support for Ukraine. Several officials told me that while it's true there is a new process to consider limited lethal aid, there's no telling when that process will end and there's no firm sign yet that top White House officials -- including national security adviser Susan Rice, chief of staff Denis McDonough the president himself -- have altered their long-held view that providing such arms to Ukraine risked a dangerous retaliatory escalation from Russia.
In his remarks to the conference Saturday, Vice President Joe Biden harshly criticized Russian interference in Ukraine, while at the same time not tipping his hand as to whether he supports lethal aid. "We believe there is no military solution to the situation in Ukraine," he said. "We believe that the Ukrainians have the right to defend themselves." 
U.S. officials said the new deal Merkel-Hollande deal offered to Putin in Moscow represented an update to the Sept. 2014 Minsk agreement, which provided separatist regions in Eastern Ukraine a significant degree of autonomy in exchange for Russia's agreement to honor Ukraine's international borders. The new offer to Putin granted more concessions to the separatists, recognizing their recent gains on the ground.
Merkel said the results of her trip were "uncertain," but there's huge skepticism inside the U.S. government that Putin would go for such a deal. After all, Russia didn't abide by the original Minsk agreement, and since last autumn, the Russian-separatist position has only strengthened. All signs indicate that the Russian government is not ready to bargain.
Russian Foreign Minister Sergei Lavrov gave a blustery speech here in Munich during which he accused the West of fomenting a coup d'état in Ukraine, denied that Russia was arming the separatists, and asserted that the Crimeans chose to leave Ukraine, exerting their rights to self determination under the U.N. Charter. The European crowd laughed at loud at Lavrov's assertions, but he didn't seem to care.
"Perhaps you think what I say is funny, but I think what you say is funny," Lavrov said, pointing out that the Russian perspective on Ukraine is incompatible with the West's version of events.
A smattering of European leaders in Munich support arms for the Ukrainian military, including leaders from Poland and the Baltic states. Estonian President Toomas Hendrik Ilves told Merkel that the choice was "surrender or arm Ukraine." In an interview, he told me that overall there is little appetite in Europe, with some exceptions, for greater involvement in the Ukraine crisis.
"There's never been a major European commitment to Ukraine, so the question is how strong is the commitment to European values and how strong is the commitment to maintain the security architecture of the post-Cold War era," he said. "If the outcome is another frozen conflict like Transnistria, then clearly none of us have done a good job."
Both American and European officials here are flummoxed. They acknowledge that the West has gone way out on a limb against Russia on Ukraine without any plan whatsoever on what to do next. Some Americans want to escalate, some Europeans want to reduce tensions, but neither camp has much confidence that either strategy will get the job done.
The emerging split between the U.S. and Europe over Ukraine is exactly what Putin has been working toward. When Merkel comes to Washington in two days, she and Obama will try to paper over that divide, but it is real and growing. Obama may ultimately decide that arming the Ukrainian military is too risky. Only after he says that openly could the U.S. and Europe start working on a real alternative strategy.
This column does not necessarily reflect the opinion of Bloomberg View's editorial board or Bloomberg LP, its owners and investors.