Lincoln's Lesson for Obama on Iran
The Hampton Roads Conference, 150 years ago this week, offers some strategy for the P5+1 nuclear talks.
by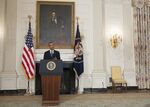 U.S. Secretary of State John Kerry met today in Munich with Iranian Foreign Minister Mohammad Javad Zarif, as a prelude to the resumption of the P5+1 talks on the Islamic Republic's nuclear program. Many Democrats and Republicans alike are growing increasingly wary about how much the Barack Obama administration might give away to get a deal -- and how serious the Iranians are. The administration, for its part, insists that it will agree to nothing that jeopardizes the security of the U.S. or Israel, or allows Iran to gain a nuclear weapon.