Where the Job Growth Is
It's now five years since employment bottomed out. The service sector has driven the gains, but government has been a drag most of the time.
by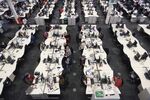 It's been five years since payroll employment bottomed out in the U.S. in February 2010. Since then the economy has added 11.2 million civilian, non-farm jobs. Amid all the celebrating around today's very strong jobs report, I decided to take a look at which industries have been driving the gains since 2010. Here are the four sectors (or, to be precise, "supersectors" 1 ) that have added more than a million jobs during the past five years.

You don't see manufacturing on this list. That's not because manufacturing has had a bad recovery -- employment is up 8 percent in the sector since February 2010. It's just that it isn't one of the biggest employers anymore, so that added up to less than a million jobs (877,000, to be precise). Employment in the even-smaller construction industry is up 15 percent, which translates to 814,000 new jobs. The financial sector isn't all that big either in terms of employment, and it hasn't grown much -- up just 353,000 jobs, or 5 percent, since February 2010.
As is probably apparent from the above chart, the fastest growing sector in both percentage and absolute terms is professional and business services. It added 2.9 million jobs for an 18 percent gain. The biggest single contributor to that was temporary help agencies, which added 888,000 jobs. An explosion in temp jobs isn't all that encouraging, but there were also job gains of more than 250,000 in computer systems design and services, management and technical consulting services and management of companies and enterprises.
The not-very-surprising big message from the numbers is that services are where almost all the action is. That's where most jobs now are, and it's where most new jobs are created. An example: Manufacturers of automobiles and light trucks added 53,000 jobs over the past five years; auto dealers added 110,000.
There's one big part of the service sector, though, that has seen no job growth at all during this recovery:

Even as the economy as a whole was beginning to add jobs in 2010, government -- with the exception of a temporary federal hiring spurt for the 2010 Census -- was shedding them. Local governments, which have more employees than the states and the federal government combined, had shed 448,000 jobs by June 2013.
There's been a modest recovery since then in both state and local employment, and federal employment has at least stopped declining. This explains a lot about why the jobs reports have been getting so much stronger during the past year or so -- government finally stopped pulling in the opposite direction from the recovering private sector.
To contact the author on this story:
Justin Fox at justinfox@bloomberg.net
To contact the editor on this story:
James Greiff at jgreiff@bloomberg.net
Before it's here, it's on the Bloomberg Terminal.
LEARN MORE