Is China Preparing for Currency War?
China's central bank is cooking up measures to widen the band in which its currency trades. Officials say it's about limiting volatility, but let's call it what it really is: the first step toward yuan depreciation and currency war.
by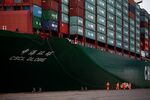 China has entered the global monetary-easing fray, along with more than a dozen other economies, after its central bank surprised investors by cutting reserve requirements 50 basis points to spur lending and combat deflation. But Beijing may be raring for an even bigger and more perilous fight -- in the currency markets.