Republican Hopefuls Face Death by Prosecutor
Christie, Perry and Walker have all been plagued by prosecutors. Bob McDonnell was felled by one.
by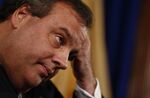 Several Republicans with 2016 presidential ambitions have been plagued by prosecutors. Former Virginia Governor Bob McDonnell, once touted as a potential contender, was sentenced to prison last month. Texas Governor Rick Perry is preparing for a possible trial. Wisconsin Governor Scott Walker, who local prosecutors accused of engaging in a "criminal scheme," isn't quite out of reach. And, of course, Governor Chris Christie appears to be keeping half the lawyers in New Jersey occupied.