Chris Paul and the NBA's Woman Problem
Why it's a big problem that the union president called out a female ref.
by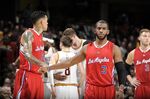 Los Angeles Clippers star Chris Paul is taking some heat today for comments he made about a female referee after last night's embarrassing loss to the Cleveland Cavaliers. The reaction has been swift and predictable, with Paul's supporters completely missing the point in jumping to his defense.
The Clippers were a mess the entire night, falling behind early and getting called for a total of five technical fouls. With 10:17 left in the third quarter and the Clippers trailing 68-45, rookie referee Lauren Holtkamp T-ed up Paul for saying something to her on an inbounds pass. In the locker room after the game, Paul addressed the technicals, calling out Holtkamp in particular, per ESPN's Arash Markazi:
"I think we have to show better composure, but at the same time some of them were ridiculous," Paul said. "The tech that I get right there was ridiculous. I don't care what nobody says, I don't care what she says; that's terrible. There's no way that can be a tech. We try to get the ball out fast every time down the court, and when we did that, she said, 'Uh-uh.' I said, 'Why, uh-uh?' And she gave me a tech.

"That's ridiculous. If that's the case, this might not be for her."
Critics rightly jumped on Paul -- who as the president of the players' union knows his comments will carry extra weight -- for singling out Holtkamp, who this season became the third full-time female referee in the NBA. The head of the referees union issued a statement today in support of Holtkamp's calls and criticizing the "personal and unprofessional comments made by Chris Paul."
But the backlash against the backlash has been even more telling, with mostly male fans and commentators defending Paul's right to criticize an official regardless of her sex and spouting tired rhetoric against the scourge of political correctness. These people think Paul's critics are mainly taking issue with the fact that he referred to her as "her," and are ignoring the rest of the sentence. 
So let's be clear here: This is not about the use of gendered pronouns. Female referees are absolutely not above criticism simply because they're women. If Paul had stopped his comments after "That's ridiculous," hardly anybody would have a problem with anything he had said before that. (The NBA likely would, though, as the league is famous for penalizing players and coaches for speaking out about officials in any way. Paul can surely expect a fine.)
The crux of the issue is in his final statement: "This might not be for her." This isn't just a player questioning some calls or even a referee's judgment. This is a player questioning whether the referee is qualified to be in the NBA in the first place. Holtkamp's resume speaks for itself, and it's hard to imagine a player similarly implying that a male referee doesn't belong. Here, Paul is saying that a professional men's sports league "might not be" the place for this woman to hold a position of authority -- at least  not when she makes decisions with which he disagrees. To this point, the referee's union makes it clear: "She belongs."
Now, some are saying that Paul would have said the same thing about a rookie referee who is a man, that it's a reach to make this into a gender issue. It's true that players don't hold most officials in the highest regard, and often try to intimidate referees in their first year. It's also true that there's a bit of history here: The Clippers took issue with Holtkamp's officiating in a game earlier this season against the Miami Heat. And despite his reputation for being an all-around "good guy," Paul is what some consider a "sneaky dirty player" who often gets away with infractions that fly under the radar. He's not that used to referees standing up to him, women or not.
Paul's reputation and the respect he commands among his fellow players aren't an insignificant part of this situation. Many of his supporters note that as the player-head of the NBPA, he was instrumental in the election of Michele Roberts as the union's first female executive director. That's absolutely true, but it isn't necessarily evidence of accepting a woman's authority. Paul can be expected to back Roberts as long as she represents the interests of players like him -- the superstars -- in the upcoming CBA fight against owners. But given the infighting within the union, let's withhold judgment until we see if he continues to respect Roberts's authority once disagreements arise.
Women in sports are used to being tested constantly on their knowledge and qualifications to show that they belong. They're often held to a higher standard than their male counterparts, whose right to work in sports is simply a given. This is all part of the growing pains that accompany the push for greater inclusion in male-dominated industries. With women serving as full-time referees, union leaders, and even coaches, the NBA is a leader among the major sports leagues when it comes to gender diversity -- a bar that, unfortunately, isn't set all that high.
As the league continues to make strides, from Holtkamp to Roberts to San Antonio Spurs assistant coach Becky Hammon, one of the first questions asked of these women is usually how they plan on getting a group of overinflated male egos to submit to female authority. The burden is therefore placed on these women to prove themselves to the men under them -- to prove that they're qualified, that they belong, that they're not outsiders. That a player such as Paul can openly question the very presence of one of them, and have people rush to defend his right to do so, shows just how heavy this burden really is.
To contact the author on this story:
Kavitha A. Davidson at kdavidson19@bloomberg.net
To contact the editor on this story:
Tobin Harshaw at tharshaw@bloomberg.net
Before it's here, it's on the Bloomberg Terminal.
LEARN MORE