Why the Comcast-Time Warner Cable Merger Is Dead
Take a close look at this possible mega-deal. The FCC just made sure it isn't going to happen.
by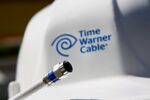 The Federal Communications Commission has decided to regulate broadband service like a utility and enforce, to some degree, equal access to the Internet -- a concept known as "net neutrality."
Cue everyone to go crazy over this. By "everyone," I mean: consumers, Internet access providers, content creators, web-dependent startups, your mom, your dad, your sister, your brother, your neighbor, and, of course, giant telcos, cable companies and much of Corporate America.
As we wait for the details of the FCC plan to sort themselves out -- a process that will involve a lot of lawsuits and a lot of time -- one of the first companies to feel the impact will be Comcast.
Yes, Comcast, the sprawling cable giant that has a horrible reputation with many consumers, owns marquee properties such as NBC, and is now trying to buy Time Warner Cable as part of a $45.2 billion mega-merger that would expand and solidify its market power.
Now along comes the FCC, armed with its proposed broadband regulation, and that merger suddenly appears even less likely to proceed than it did only a few days ago.
I realize that I'm not going out on a huge limb here with that analysis. Lots of stories have noted that recent regulatory moves could jeopardize the Comcast bid and that investors are worried that it might fall through. But I'm happy to go one step further: Let's just declare this proposed merger dead. Yep, put a toe tag on it.
Before I get into the reasons the deal won't pass regulatory muster, I'll throw out another prediction: Charter Communications swoops in as a suitor and gets Time Warner once Comcast is out of the running.
So why is the Comcast-Time Warner Cable deal doomed? Even before the FCC decided to change how it regulates broadband service providers, the commission redefined what qualifies as a high-speed Internet connection -- from 4 megabits per second to at least 25 megabits per second for downloads. Here's the significance of the new definition: If speeds don't hit that benchmark, an Internet service provider isn't allowed to call the connection "broadband." (The average connection speed in the U.S. is about 10 megabits per second.)
This new standard completely redrew the U.S. market-share map because only cable operators like Comcast, as well as other companies such as Verizon FiOS, AT&T U-Verse and Google Fiber, can currently meet that standard. In this new world, the broadband end of the Internet services spectrum is dominated by just a handful of companies. In the regulatory world, market dominance translates into a lack of competition.
That's a bitter pill for Comcast, because it's been saying that there is so much competition for Internet services that consumers have plenty of options before them. Hence, a merger with Time Warner Cable wouldn't be anti-competitive. The FCC just redefined that notion into oblivion.
When you think about how relatively unavailable broadband services like Google Fiber are in most of the U.S., it's easy to see that cable is really the only high-speed Internet service provider for most of the country. Indeed, under the FCC's new standard, analysts say that cable accounts for more than 80 percent of the country's high-speed Internet connectivity.
Right now the cable players tend to operate in a series of regional monopolies. The Comcast-Time Warner Cable case docket says that the merged company would provide access to 54.9 percent of all broadband subscribers. The Wall Street Journal says it's closer to 57 percent. That percentage could be higher now. Time Warner said that it added 168,000 high-speed data customers in the last quarter, compared with 39,000 a year earlier. It seems like a merged entity would have a broadband market monopoly.
Rich Greenfield, an analyst with BTIG, said the FCC's moves show that "the government views the cable operators as a problematic group of monopolists that require regulation." His firm puts the odds of Comcast buying Time Warner Cable at 30 percent.
The government's move could also have the effect of spurring consolidation in the broadband industry. If it seems like margins and profits will be hemmed in under federal regulation, smaller providers will come together and try to create economies of scale. (A similar dynamic has been playing out in the telecom industry for the past few years.)
Once the Comcast-Time Warner Cable deal is off the table, it's time to start watching Charter Communications closely. John Malone controls Charter through his company Liberty Media, and he's already said that he plans to bid for Time Warner if the Comcast acquisition falls through. This makes sense given that he spent much of 2013 and early 2014 trying to buy Time Warner Cable, only to be outbid at the last minute by Comcast and its chief executive, Brian Roberts.
The dynamics of a Charter deal are different from those of a Comcast deal. Comcast has a huge lead in high-speed Internet, with 21.6 million subscribers versus Charter's 4.8 million. Even after a possible tie-up between Charter and Time Warner Cable, which has 11.5 million high-speed data customers, the combined entity would still have only three-quarters of the subscription base of Comcast as a standalone.
It wouldn't necessarily be easy to get a Charter-Time Warner Cable merger past FCC review, but it seems less likely on the face of things that the FCC would blow it up. But Comcast-Time Warner Cable? Kiss that one goodbye.
This column does not necessarily reflect the opinion of Bloomberg View's editorial board or Bloomberg LP, its owners and investors.