Waiting for 2015's First Confirmation
In 2007, a Democratic Senate acted quickly to approve George Bush's nominees. Obama's selections deserve the same attention.
by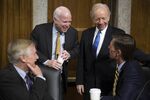 Is the Republican Senate finally starting to take care of business? Two cabinet nominees, Loretta Lynch for attorney general and Ashton Carter for defense secretary, have had their Senate committee hearings, and will now move to final confirmation.