view
Sports and Family Don't Mix. Just Ask the Saints.
Inheriting a sports team has brought plenty of headaches to these heirs.
by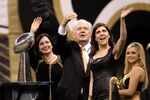 The lawsuit over the estate of New Orleans Saints owner Tom Benson has everything you'd want in a drama: dysfunctional family dynamics, billions of dollars at stake, the money-grubbing wife versus the money-grubbing children, reports of senile ramblings, football and ... candy.
Benson, who also owns the NBA's New Orleans Pelicans, recently announced plans to shift control of his businesses to his wife, not his offspring, upon his death. In response, Benson's daughter and grandchildren filed suit claiming the billionaire has diminished mental capacity and is being puppeted by his third wife, and thus shouldn't be allowed to make such decisions.
According to Bloomberg News, Benson's heirs "pointed to Benson's alleged preferred diet of candy, ice cream, soda and red wine" as evidence of his incompetence.
This case is so clearly about money, to which Benson's heirs may be entitled, that the concern for the future of the teams is obscured. But it does raise questions about who should take over a team when an owner dies. Nepotism in sports and business isn't anything new, and intrafamilial transitions aren't always as seamless as they're supposed to be.
Three years before New York Yankees owner George Steinbrenner died in 2010, his son Hank took over the day-to-day operations of the team. Loud like his father, Hank was nicknamed "Baby Boss" during his very public contract negotiations with manager Joe Torre. The next year, his brother Hal officially took over the team's controlling interest. The two were slated to run the team together as co-chairmen, with Hal handling business operations and Hank overseeing baseball operations. Today, however, Hal mainly runs both sides, while Hank has largely faded from public view.
In fact, Hal and Hank weren't originally intended to take over the team. Steve Swindal was the Yankees general partner and heir apparent until he and George's daughter divorced. The shakeup raised so much uncertainty about the team's future that it spurred previously unimaginable rumors that the Yankees might be up for sale.
Since George's death, Hal has taken the team in a different direction. George famously spent money with abandon, valuing results on the field over results on the balance sheet. When Hal gained control, the Yankees had reportedly been losing money for years. (Those reports should be taken with a grain of salt, as they apparently didn't account for the cash-printing arm of the business known as the YES Network.) Hal ushered in an era of fiscal responsibility -- much to the chagrin of Yankees fans who had been spoiled into thinking they would continue to overspend on marquee free agents.
Across the country, when Los Angeles Lakers owner Jerry Buss died in 2013, his six children assumed control of the team. It hasn't been a smooth transition. In this case, too, a team that seemed like it would stay in the family forever had people calling for the Buss clan to sell. There have been numerous reports of infighting among the Buss siblings, four of whom actively run the Lakers. The tension between team president Jeanie and her brother Jim, executive vice president of basketball operations, is at the forefront of the team's organizational problems: Jim made waves by deciding not to hire back coach Phil Jackson, who won five rings in Los Angeles and also happens to be Jeanie's fiance. With the team struggling on the court, Jim told his siblings last month that he would step down if the Lakers aren't contending within three years -- a decision Jeanie said she'd abide.
Both the Yankees and the Lakers offer cautionary tales to whichever part of the Benson family will ultimately take over the Saints and Pelicans. Two franchises with traditions of winning and seemingly unshakeable brands haven't returned to championship form. (The Yankees did win the World Series in 2009, but they also just missed the postseason in consecutive years for the first time in two decades.) You can't blame the losses directly on family dysfunction, but neither team has a clear strategy for navigating the post-George and post-Jerry eras (which, not insignificantly, will also be the post-Derek and post-Kobe eras). These men were so synonymous with their teams, their personalities so present in our minds, that it's hard to pinpoint the teams' identities once separated from their larger-than-life owners.
New Orleans fans might have reason to believe the transition will be a bit easier if the lawsuit and succession plan get sorted out while Benson is alive. For now, the day-to-day operations of the Saints and Pelicans will continue to be run by their respective managers, as they have been for the past decade, with Benson remaining active in the franchises. There are no guarantees, however, that upon his death his wife or daughter won't dramatically alter the way the businesses are run, or that they won't get lost in their own squabbles, dragging the teams' success with them.
To contact the author on this story:
Kavitha A. Davidson at kdavidson19@bloomberg.net
To contact the editor on this story:
Stacey Shick at sshick@bloomberg.net
Before it's here, it's on the Bloomberg Terminal.
LEARN MORE