Will the Next Recession Destroy Europe?
If the EU can't handle Greece, how will it weather another recession?
by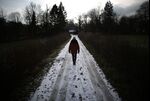 The initial hardline posturing on both sides of the Greek debt stand-off is already moderating. This latest European crisis can be resolved and, as I recently explained, most likely will be. Yet don't be overly optimistic about the euro area's longer-term chances of survival. The hash that the European Union has made of this latest Greek emergency, a small and relatively tractable issue, tells you those chances aren't good.