The Unloved Treasury Rally
Bonds in 2015 are off to their best start in at least 40 years.
by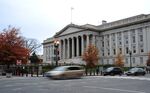 "Some day interest rates will go up. Until then the Treasury bears are missing one of the greatest bond rallies in history." -- Jim Bianco, Bianco Research 
Since 2015 began, everyone has been fixated on the U.S. dollar and oil prices. I want to direct your attention to what may be the greatest show now playing in financial markets: The 30-year U.S. Treasury bond.

The chart above, courtesy of Bianco Research, shows the year-to-date returns of the long bond during each of the past 40 years. Never has the 30-year Treasury, depicted by the blue line, had a stronger start to a new year going back to 1974.
Jim Bianco of his namesake firm notes that in January the 30-year bond returned 10.71 percent. That ranks as the seventh best month ever for the security. We don't know if that is going to continue, but it is certainly worth watching.
The contrarian in you should take notice. Bonds remain an unloved asset class, despite their performance during the past one-, five-, 10- and 30-year periods. As we wrote in January 2014, "Nobody Likes Bonds!" and "The Consensus Hates Bonds. Should You?" Those turned out to be especially timely observations, as bonds were one of the top performing asset classes in 2014. (Note the scale on the right side of the chart for a list of historical returns.)
Here we are, a year later, and the crowd still seems to have little enthusiasm for bonds. Bonds are possibly an even more despised asset class than equities.
It isn't just U.S. Treasuries that are enjoying a rally: Sovereign bonds around the world have been gaining. The yield on Germany's 10-year bond fell as low as 0.306 percent yesterday, putting it below the Japanese equivalent for the first time. Whether this foreshadows more economic weakness in the euro zone or is a function of the European Central Bank's announcement of its version of quantitative easing is the subject of rancorous debate.
Gary Shilling is one of the few bond watchers who has been consistently bullish during the epic bond rally that traces its beginning back to 1981. "If it ain't broke, don't fix it" he wrote in a note to clients last month. Shilling provides 10 reasons why he believes the bond rally can continue. These include the U.S. as an investment haven, persistent global deflation, QE in Japan and Europe and relatively attractive Treasury yields compared with those abroad.
Shilling has been looking for the 10-year note yield to drop from today's 1.82 percent yield to as low as 1 percent. He notes that "Speculators are increasingly short the benchmark 10-year Treasury note in the futures market. If the rally in Treasury prices persists, sooner or later they will be forced to buy back their shorts." That could lead to yet another substantial rally.
In spite of all those who are betting against bonds, the securities continue to attract buyers, even though there is obviously little room there for interest rates to keep going lower. 
This much we do know. So far in 2015, all the tales of the death of the bond rally have one thing in common: They've been wrong.
This column does not necessarily reflect the opinion of Bloomberg View's editorial board or Bloomberg LP, its owners and investors.