U.K.'s Half-Hearted Currency Probe
The $4.4 million spent on a currency-rigging probe produced pablum, not an investigation.
by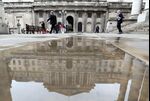 It's bad enough that the Bank of England's chief currency trader ignored clear evidence of market manipulation in the foreign-exchange market for six long years. What's truly appalling is that the subsequent probe into the abuse seems to have been done on the cheap, making a mockery of the inquiry and belittling the damage done to the world by yet another financial scandal.