Japan Needs More Corporate Funerals
Japan must let more companies die to promote the creative destruction that leads to faster growth.
by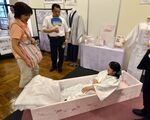 Big changes are happening in Japan. Prime Minister Shinzo Abe is pushing hard for deep, important structural reforms. The biggest is Abe's attempt to improve the flexibility of the dysfunctional Japanese labor market. He has created a new corporate governance code, designed to make companies more focused on profit. At the same time, cultural change is occurring rapidly with respect to women in the workplace. These are much-needed. But there is one big piece of the puzzle that is missing. The missing piece is creative destruction -- Japan needs to learn to let companies die.