Would You Hire the Super Bowl Hero?
The "war for talent" has been a business watchword for almost two decades. 
by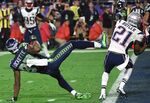 When was the last time your talent-hungry organization hired the equivalent of Super Bowl hero Malcolm Butler, the undrafted rookie who came out of the University of West Alabama, a Division II school many football fans had never even heard of? When was the last time you even considered someone with unlikely credentials for a critical position?