Switzerland Rejoins Currency Wars
Two weeks after Switzerland stunned currency traders by abandoning the franc's peg to the euro, the central bank is quietly back in the market.
by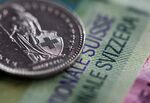 Two weeks after Switzerland stunned currency traders by abandoning the franc's peg to the euro, it seems that the central bank is quietly getting back in the market. With central banks from Denmark to Singapore to Canada easing monetary policy in recent weeks, the Swiss authorities face an even bigger battle trying to restrain their strengthening currency.
The Schweiz am Sonntag newspaper said during the weekend that the Swiss National Bank is now targeting a corridor rate for the franc of 1.05 to 1.10 per euro, compared with the 1.20 level it abandoned Jan. 15. The bank is declining to comment; but if it is trying to keep the franc from becoming stronger than that level against the euro, it seems to be struggling to drive the currency into the desired range: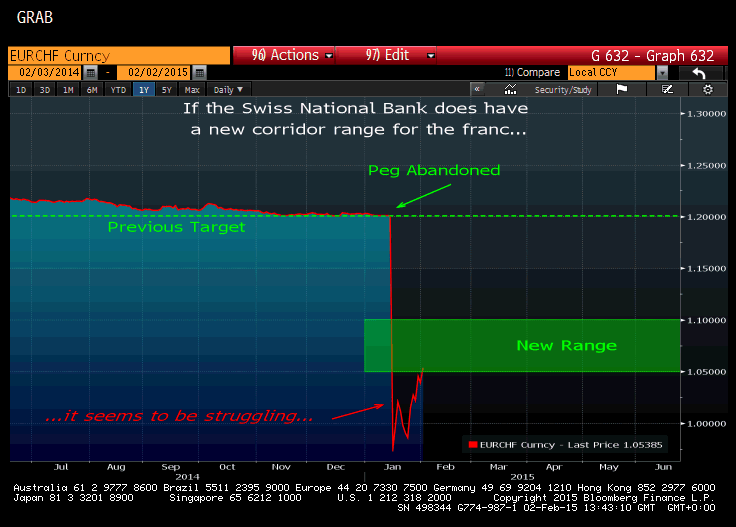 The aftershocks of the peg abandonment, which triggered squeals of horror from Swiss exporters, are still rumbling through the nation's economy. Figures released yesterday showed that a benchmark index of manufacturing activity slumped to 48.2 in January, down from 53.6 a month earlier and undershooting economists' expectations for a 50.6 reading. A number below 50 signals contraction, and every component from order pipelines to stocks of goods to employment declined. The manufacturing survey was taken just after the currency defense was abandoned, according to Martina von Terzi, an economist at Unicredit in Munich. She expects the Swiss economy to grow by just 0.1 percent this year, with quarter-on-quarter contractions of 0.7 percent in the first three months and 0.3 percent in the second. So it's clear why Switzerland doesn't want an appreciating currency to trash its economy.
Having retired once with a bloody nose, however, it isn't clear why the Swiss central bank thinks it can rejoin the fray without taking another beating. Maybe it hopes that the currency traders who lost millions of dollars when the peg was dropped won't dare to speculate again on the franc. Maybe it considers 1.05 francs per euro defensible in a way that the old peg of 1.20 wasn't. Maybe it anticipates less pressure now that the European Central Bank has finally conceded to the need for quantitative easing.
Maybe. But I'm willing to predict that the Singapore branch office that the SNB opened in the middle of 2013 to defend the franc while Zurich was asleep will earn its keep. And with Denmark also going to extraordinary lengths to cap its krone, including deeply negative interest rates and canceling its bond-auction program, I've got a horrible feeling that the currency wars are set to end badly. 
This column does not necessarily reflect the opinion of Bloomberg View's editorial board or Bloomberg LP, its owners and investors.