Obama's Missed Opportunity on Parental Leave
The president's plan for federal workers would have a better chance of passing Congress if he traded it for civil-service reforms Republicans want.
by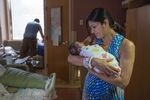 The U.S. is the only developed country that doesn't guarantee paid maternity leave. President Barack Obama wants to change that, starting with federal employees. Yet the federal government already grants paid leave to tens of thousands of workers: those who it is trying to fire or discipline. And therein lies the potential for a compromise with Republicans.