How the West Is Losing Ukraine
Barack Obama and Angela Merkel are leaving Ukraine exposed to Vladimir Putin's depredations.
by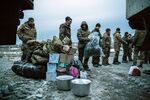 U.S. President Barack Obama has joined German Chancellor Angela Merkel in saying that the West should take a patient, long-term approach to dealing with Russia's aggression in Ukraine. The real message to Kiev: You're on your own in fighting pro-Russian rebels and Russian troops.