Greece's Debt Plan Is a Hidden Haircut
The Greek government's proposal calls on the ECB to write off 27 billion euros in debt.
by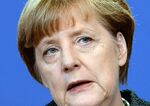 The new Greek government has offered the world a tantalizing glimpse of the debt restructuring plan it wants its European creditors to accept. It contains no outright haircut, but it appears to involve a restructuring of Greek bonds into a collection of exotic instruments with loose repayment terms. If this is all Syriza wants, it has blinked first. But its game of chicken with Germany has barely started.