Other Super Bowl Losers: Scalpers
Super Bowl ticket brokers didn't manipulate the market. They just guessed wrong about availability.
by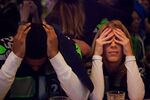 As an interesting coda to the most thrilling Super Bowl in recent years, I'd like to point to an unintentionally hilarious article at ESPN.com about the travails of ticket brokers who were unable to fulfill customer orders for the event. Evidently it has become common for brokers to engage in short selling, charging their clients heavy markups for tickets the brokers don't own but hope to pick up later for less than the contract price. This year, prices never fell, and the brokers couldn't fulfill the orders.