Will U.S. Protect Its Syrian Rebel Army?
The Obama administration has a Hamlet moment on how to protect U.S.-trained rebels in Syria.
by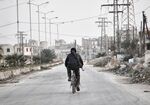 The long-awaited Syrian train-and-equip program that President Barack Obama sold to Congress as the way to keep American boots off the ground in Syria is finally about to start training its first troops. Three Obama administration officials who work on the Middle East told me that after months of preparations, the vetting of rebel troops for the first tranche of training is nearly complete. About 1,800 soldiers from Free Syrian Army brigades in southern Syria will soon move to a training camp in Jordan to undergo weeks of preparation for a coming fight against Islamic State inside Syria.