Save Companies From Drowning in Cash
It's time to motivate U.S. companies to spend all the cash they've been hoarding.
by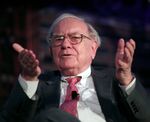 The current earnings season shows corporate America is awash in cash for which it has no good use. The country's wealth utilization mechanism is broken and needs to be fixed, despite the political stalemate.
In recent years, the share of cash in the assets of the biggest U.S. companies has risen sharply:

When I last wrote on the subject in August, I noted that Warren Buffett's Berkshire Hathaway had a record $55.4 billion in cash on its balance sheet. The legendary investment guru's inability to find a reasonable way to invest it seemed telling. One quarter later, Berkshire Hathaway reported having $62.4 billion in cash -- and that's just by a narrow definition that includes actual cash and short-term marketable securities. By a broader measure, which would include all liquid assets, Buffett's company had $250.4 billion in cash and equivalents at the end of September, almost 4 percent more than three months before.
And no wonder: in the last 12 months, Berkshire Hathaway's investments increased by just $13.4 billion, compared with $28.8 billion in 2013. 
If past performance is any indication, the fourth quarter of 2014 will add more cash to Buffett's cash pile. It did for another famous hoarder, Apple. According to the tech company's report for the quarter ending on December 27, 2014, it had an astounding $178 billion in cash and equivalents, 14.6 percent more than at the end of the previous quarter. Apple's debt level only increased 3 percent between the quarters. 
One might think the cash position of big U.S. corporations is growing so fast because they aren't returning enough to shareholders. Nobody can fault Apple on that front: It has a $130 billion share buyback program of which $103 billion has already been spent, $5 billion of it in the last quarter. On the most recent earnings call, no one even asked Apple managers about the cash hoard or further buybacks -- it's hard to expect the company to do much more. 
Apple isn't alone in diligently returning some cash to shareholders. Last October, Bloomberg News reported that the S&P 500 companies planned to spend 95 percent of earnings, or $914 billion, on buybacks in 2014.
Perhaps companies are being too timid about growing through mergers and acquisitions? No way. U.S. M&A volume increased 51.4 percent to $1.53 trillion last year. 
What if firms are simply underinvesting in things like retooling, research and development and organic expansion? There's certainly motivation for such behavior: Buybacks provide a faster way to increase market capitalization than organic growth. That's why investors punished Facebook with a share price drop after it reported its quarterly results this week: The social network had increased spending, particularly on R&D. Amazon is frequently criticized for spending too much on iffy projects. The market would love them to focus instead on increasing margins and buying back their shares with the proceeds.
Data compiled by Bloomberg show that investment has been growing lately, but not as fast as the cash hoards. In 2014, the S&P 500 companies increased R&D expenses to $31.4 from $29.5 per share the year before. Cash outflow for investments grew to $153.2 from $147 per share -- a 4 percent increase, compared with 8 percent growth of the cash stash (to $401 per share from $372 a year earlier).
Academic literature provides many explanations for the glut of corporate cash, including the reluctance of managers to part with their war chests, caution in the face of financial crises and low inflation. Perhaps, however, there is another reason: The tax system isn't working as it should. Apart from encouraging companies to keep the money overseas and repatriate it through debt issues, as Apple does routinely, the U.S tax structure doesn't motivate companies to do enough with their money.
The government is making an effort to collect more taxes from business. While S&P 500 earnings increased by about 15 percent between the first quarter of 2013 and the third quarter of 2014, the U.S. federal government's receipts from corporate income taxes grew by 31.5 percent in the same period. So a higher corporate tax rate would not be helpful. Indeed, I've argued for lowering it, to encourage corporations to bring more of their overseas cash back home.
It would, however, make sense to fine-tune the tax system so it encourages companies to find productive uses for their money, such as expanding R&D programs, improving production facilities or just providing more benefits and higher salaries to their staff. In effect, that would make more companies behave like Facebook, which increased operating expenses by 66 percent and R&D spending by 83 percent in the quarter ending Dec. 31, 2014, compared with the previous one -- and saw its cash pile shrink by 21 percent, to $11.2 billion -- still more than enough to cover any contingencies.
It's the government's responsibility to point other companies in this direction, given that the market is failing to dissuade them from sitting on fat piles of cash that do nothing for themselves or the economy.
This column does not necessarily reflect the opinion of Bloomberg View's editorial board or Bloomberg LP, its owners and investors.
To contact the author on this story:
Leonid Bershidsky at lbershidsky@bloomberg.net
To contact the editor on this story:
Marc Champion at mchampion7@bloomberg.net
Before it's here, it's on the Bloomberg Terminal.
LEARN MORE