Editorial Board
Let Them Drink Hard Alcohol
Dartmouth is set to become a more sober place.
by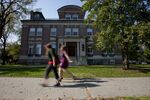 Philip Hanlon is trying to make Hanover, New Hampshire, a more sober place. The question is whether "more sober" will also mean "more safe" -- and, more broadly, how far colleges and universities can and should go to protect their students. 
Hanlon, the president of Dartmouth College, unveiled a plan yesterday to create a residential-college system (not unlike those of Ivy League cousins Harvard and Yale) and to require students to take part in a four-year program on sexual-violence education and prevention. Oh, and another thing: Come March 30, hard alcohol will be banned.
"Dartmouth's new alcohol policy for students," the plan reads, "will prohibit the possession or consumption of 'hard alcohol' (i.e., alcohol that is 30 proof or higher) on campus by individuals, including those over the legal drinking age, and by Dartmouth College-recognized organizations."
Dartmouth is not alone taking a strict approach to the -- sometimes excessive -- alcohol consumption that fuels many a college experience. Bowdoin, Colby and Bates colleges have campus hard-liquor bans. At the University of Virginia, which recently found itself at the center of the sexual-assault maelstrom caused by a flawed Rolling Stone article, many fraternities agreed to prohibit pre-mixed drinks and punches -- and place restrictions on the distribution of hard liquor -- at parties.
Dartmouth and Virginia are two of 95 postsecondary institutions being investigated for possible failure to adequately handle sexual violence and harassment on campus, as required by federal law. It would be naïve not to recognize alcohol's role in the sexual-assault problems on U.S. campuses, or to acknowledge the inherent risk that drinking in excess poses to young adults. Cracking down on drinking, especially binge drinking, can certainly help keep students safe from sexual assault and injury to themselves or others -- at the margins, perhaps even beyond them. The same goes for cracking down on misbehavior at fraternities, which Dartmouth considered banning but decided not to (yet).
And it goes without saying -- or should -- that when there are accusations of criminal behavior, colleges and universities need to hand matters over to the proper authorities for investigation and prosecution.
Having acknowledged all that: How much can banning hard alcohol really do? Young people tend to want to partake in activities when they are told they cannot. (See also: sex, drugs and rock 'n' roll -- or whatever it is kids are listening to these days.) Moreover, such a ban seems impossible to police fully, and alcohol consumption can be more dangerous when it's hidden. If college kids are going to get wasted -- and they are -- then they're arguably better off on campus than off, especially if cars are involved. Finally, it bears remembering that a significant chunk of college students are legally able to buy and drink hard alcohol.
One of the great services that higher education in America has traditionally provided is to pierce -- sometimes gently, sometimes not so -- the bubble of invincibility that surrounds almost every teenager who walks through the college gates. On occasion, it takes a few shots (and maybe a bout of vomiting) to do that. The argument is not that drinking is an essential part of the college experience. It's that experimentation and failure are.
--Editors: Zara Kessler, Michael Newman
To contact the senior editor responsible for Bloomberg View's editorials: David Shipley at davidshipley@bloomberg.net .
Before it's here, it's on the Bloomberg Terminal.
LEARN MORE