Central Bankers, Unite!
The world needs a coordinated assault on deflation.
by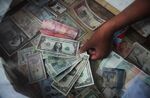 In September, the world will commemorate the 30th anniversary of the Plaza Accord. That agreement to weaken the dollar and boost the yen still stands as a landmark of economic cooperation -- something that's sadly lacking in our chaotic and deflationary times.