Greek Banks Are Ticking Time Bombs
The Greek government can't afford to rescue Greek banks if dwindling deposits lead to a crash.
by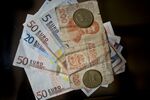 Investors are trashing Greek stocks and bonds in the aftermath of Alexis Tsipras's election. It's the country's banks, however, that are bearing the brunt of the backlash to the new prime minister's anti-austerity promises, and that spells trouble for a government that can't afford to rescue its financial system.