McDonald's Gets Too Fancy
In trying to appeal to changing customers tastes, the fast-food giant keeps making its business more complicated.
by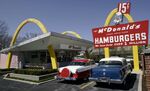 Last week Marilyn Hagerty, the world-famous restaurant reviewer for North Dakota's Grand Forks Herald, weighed in on the state of affairs at the four McDonald's restaurants in her area. Despite all the reports in the national media of trouble and falling sales at the chain, she encountered bustling restaurants and tasty food. Good coffee, too. Even the caffe lattes were a "worthy" competitor to the more-expensive ones at Starbucks.