Amazon Books Cash, Not Profits
The company may not turn a profit, but it has a couple billion other things going for it, namely huge cash flow.
by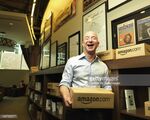 Today is Amazon earnings day. This means that people who follow the company closely are intently looking at things like how fast Prime membership grew (53 percent in the past year!), while a lot of the headlines will focus on the company's inability or unwillingness to generate much in the way of earnings, which were $214 million for the quarter and a $241 million loss for the year.
At times like these it is always useful to take a look at this chart, which includes the numbers released today:

No, Amazon doesn't have much in the way of net income. It did for a little while there -- coincidentally right in the middle of the worst U.S. recession in 75 years. Chief Executive Officer Jeff Bezos said something funny to Fortune's Adam Lashinsky in 2012 about how his company likes to occasionally "check in" with its ability to turn a profit. It tends to do that at times when its competitors are struggling, such as during the dot-com bust of the early 2000s and again during the Great Recession.
Most of the time, though, Amazon is run to generate cash, not turn a profit. What's the difference? Mainly the gap between when Amazon gets paid and when it pays people. On average, Amazon gets paid well before it pays. In the interim it uses that cash -- which shows up on the cash flow statement, but not the income statement -- along with the $6 billion it brought in selling 10-, 20-, and 30-year bonds in December to finance its aggressive investment plans. (I've written about this before elsewhere if you want a longer explanation;  and if you want a much, much longer explanation I'd recommend this by Andreesen Horowitz's Benedict Evans.)
This isn't a recipe for generating big profits anytime soon. It's a recipe for burying the competition. And it looks like it kept working in 2014.
This column does not necessarily reflect the opinion of Bloomberg View's editorial board or Bloomberg LP, its owners and investors.
To contact the author on this story:
Justin Fox at justinfox@bloomberg.net
To contact the editor on this story:
James Greiff at jgreiff@bloomberg.net
Before it's here, it's on the Bloomberg Terminal.
LEARN MORE