A Tall Order for McDonald's
McDonald's, the quintessentially American company, gets a new CEO in the British Steve Easterbrook.
by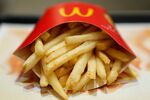 The McFamily is losing its McFather. After only two and a half years at the helm, McDonald's Chief Executive Officer Don Thompson is stepping down. Five straight quarters of disappointing sales apparently have shareholders longing for new leadership. The quintessentially American company, whose Golden Arches are a symbol of American marketing power across the globe, will be headed by a Brit, Steve Easterbrook.