Greece Puts Mind Over Money
Greece's new finance minister Yanis Varoufakis is an interesting thinker, but interesting thinkers don't always make the best politicians.
by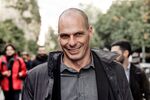 Whenever a public intellectual runs for or is appointed to high public office, people who think and/or write for a living tend to get very excited. At some point after that, they usually get very disappointed.